Hi
I hope this finds you well. I've had a few great  months of musical adventure. My album is out now and I still have a bunch of the custom cd's available only through my website.
So here goes, my tour starts tomorrow in Sydney. This month I embark on an east coast residency tour. I play every week in Sydney (Sundays), Brisbane (Tuesdays) and Melbourne (Thursdays). All the shows are free entry and I would love to see you there. I will try to write a new song for each gig. Please spread the word if you have friends in those towns. I will have some great surprise guests joining me too.
EAST COAST RESIDENCY TOUR MARCH
Sydney: Every Sunday in March @ The Welcome Hotel, with 3 other acts. 5pm
Brisbane: Every Tuesday in March @ The Scratch Bar. 8pm
Melbourne: Every Thursday in March @ The Labour in Vain, 8pm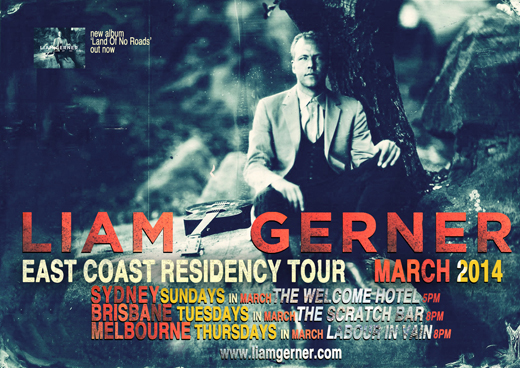 Some highlights of late have been playing with Thelma Plum at the Melbourne Zoo last night, I learnt her songs after soundcheck, 3500 people and all those amazing zoo animals, a lovely nerve racking night. I recently did the 15 hour drive up to Tamworth for my first Tamworth Country Music Festival  and played with the great Bill and Kasey Chambers, discovering many great new Australian songs, singers and pickers. Worth the drive, go to Tamworth next year. I love mix of old and new and the people are great country folk, and made me feel so at home after the past years overseas.
A few nights ago I got up and sung a couple of tunes with Kasey at her Foggy Mountain Jam in Hahndorf SA, the town where I went to primary school, the gig was only a few doors up from where I played my first ever gig as Elvis Parsley in a school play aged 12. I thoroughly recommend you catch that Foggy Mountain Jam Tour as it rolls around the country these next few weeks with its talented family of new Australian songwriters. I made my way to New Zealand for the first time for a show too, what a delight.
See you at a show this month.
Best
Liam