Hi
Very excited to be heading out on my first band tour of the East Coast, I'll be hitting Newcastle, Sydney and Melbourne so please let ya pals there know. I'll be joined by the amazing Bill Chambers, Jackie Marshall, Sahara Beck and Darren Cross. Me band of pals includes the awesome Stephen Hadley (bass) and Toby Lang (drums), in Melbourne I will also be joined by Shane Reilly (pedal steel) and Sallie Campbell (fiddle). The Melbourne show is a 4-10pm Sunday of hootenanny'ing fest featuring Melbournes finest bands and singers in the woop woop (aussie country, some call it Americana) genre.
Here are the dates:
THE TWOORTHREE DATE BAND TOUR 
Fri 17 Oct – NEWCASTLE – The Cambridge Hotel w Sahara Beck, JACKIE MARSHALL
Sat 18 Oct – SYDNEY – Petersham Bowling Club w JACKIE MARSHALL,Darren Cross
Sun 19 Oct – MELBOURNE – The Retreat Hotel w Bill Chambers plus many more 4pm-10pm 
I look forward to seeing you out at the shows.
Best
Liam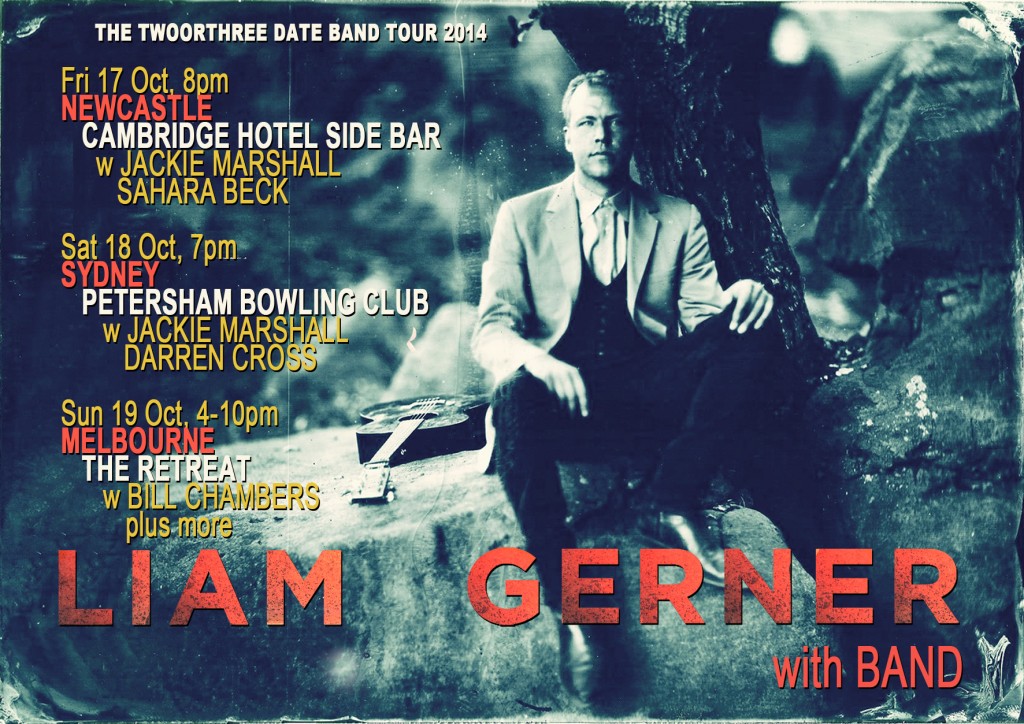 here is my filmclip for my song 'Hank and Tammy.'
Liam Gerner – Hank and Tammy (Official Video) from Liam Gerner on Vimeo.